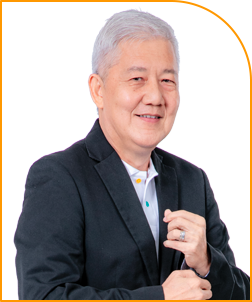 LEONG KOK CHAW
Independent & Non-Executive Director
Date of Appointment: 18 January 2023
Mr. Leong Kok Chaw, male aged 61, was appointed as an Independent & Non-Executive Director of the Company on 18 January 2023.


Length Of Service (As At 31 March 2023):
2 months

Date of Last Re-election:
Not Applicable

Acedemic/Professional Qualification/Membership(s) and Working Experience:
Leong Kok Chaw is a Certified Credit Professional by Institute Bank-Bank Malaysia since 2003.
He started his career in 1983 with Malayan Banking Berhad as Junior Executive. In 1989, he joined Affin Bank Berhad as Bank Executive and rose up as Branch Manager in 1998. In 2004, he was appointed as Head of Business Centre in Affin Bank Berhad, Port Klang Branch and in 2006, he was appointed as the Senior Manager SME Department at Affin Bank Berhad, Head Office.
After more than 17 years in Affin Bank, in 2007, he moved to Ambank Berhad as Senior Manager, SME Department. His vast experience gained in the banking industry includes specializing in government contract financing & international trade financing. He helmed various positions and capacities in several local financial institutions throughout his 28 years of banking career.
In 2009, equipped with his in-depth knowledge in international trade, he decided to venture into international logistics business by providing the one stop logistics solutions which includes forwarding, custom clearance, warehousing and distribution to his international clients from China & Korea.
To date, he continues to provide the advisory services in international trade, government authority compliances as well as the foreign workers recruitment for the local and foreign investors in Malaysia.

Membership On The Board Committee:
• Chairman of the Nomination & Remuneration Committee
• Member of the Audit Committee
• Member of the Board Risk & Compliance Committee

Family Relationship With Any Director And/Or Major Shareholder:
None

Conflict of Interest:
None

Conviction for offences within the past 5 years and any public sanction or penalty imposed by relevant regulatory bodies (other than traffic offences) during the financial year ended 31 December 2022:
None

Present Directorship(s) in Other Public/Listed Corporations:
None

Attendance at Board Meetings:
Not applicable.