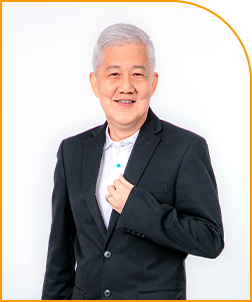 LEONG KOK CHAW
Independent & Non-Executive Director
Date of Appointment: 18 January 2023
Mr. Leong Kok Chaw, male aged 61, was appointed as an Independent & Non-Executive Director of the Company on 18 January 2023.

Qualifications & Working Experience and Occupation:
Mr. Leong is a Certified Credit Professional by Institute Bank-Bank Malaysia since 2003.
He started his career in 1983 with Malayan Banking Berhad as Junior Executive. In 1989, he joined Affin Bank Berhad as Bank Executive and rose up as Branch Manager in 1998. In 2004, he was appointed as Head of Business Centre in Affin Bank Berhad, Port Klang Branch and in 2006, he was appointed as the Senior Manager SME Dept at Affin Bank Berhad, Head Office.
After more than 17 years in Affin Bank, in 2007, he moved to Ambank Berhad as Senior Manager, SME Dept.
His vast experience gained in the banking industry includes specializing in government contract financing & international trade financing. He helmed various positions and capacities in several local financial institutions throughout his 28 years of banking career.
In 2009, he decided to be an entrepreneur and ventured into international logistics services. He was the Managing Director of RF International Forwarding Sdn Bhd from 2009 until 2015 and from 2015 until 2020, he was the Managing Director of TS Global Logistics Sdn Bhd.
Currently, he is a Business Director in Agency Perkerjaan Haz Sdn Bhd in charge of networking and advisory in the international recruitment of foreign workers.